Campagna Academy Awarded Grant From Legacy Foundation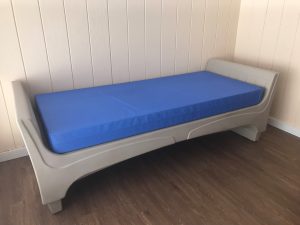 Schererville, IN – Campagna Academy announced it has received a $20,000 grant from The Legacy Foundation to support their Safety and Slumber Project.
Campagna Academy was founded 75 years ago as Hoosier Boys' Town. Today Campagna continues as a mission-centered, vision-inspired, "for-impact" organization that still
believes the world can be changed one child at a time. Their programs include Intellectual/Developmental Disabilities (IDD) Residential, Open Residential, Secure Residential, Psychiatric Residential Treatment Facility (PRTF), Emergency Shelter Care and offer a Diagnostic & Evaluation Program. They also have an IOP Substance Abuse Treatment Program, Therapeutic Foster Care and provide Aftercare Services. Campagna's life-changing programs impact over 500 youth and families annually. They are a 501c3 non-profit organization that is fully licensed and accredited.
"The Legacy Foundation grant enabled us to us to purchase twelve Norix beds, twelve Norix mattresses and fully outfit them with new sheets and bedspreads. Norix beds and mattresses have maximum durability with contemporary designs specifically created for residential treatment centers. Norix behavioral healthcare products are designed and engineered to meet rigorous industry standards, are conscientiously designed for safety, and seek to empower the environment as a therapeutic resource., shared Elena Dwyre, Campagna Academy CEO.
Legacy Foundation invests in nonprofit services and capacity building efforts throughout Lake County, Indiana. Through the generosity of a wide base of donors, Legacy Foundation has awarded $40 million in grants and scholarships to nonprofit organizations and individuals since its founding in 1992. Learn more at www.legacyfdn.org. For more information about Campagna Academy, call 219.322.8614 or visit www.CampagnaAcademy.org