Former Judge Ken Anderson To Retire From Campagna Academy's Legal Counsel
Schererville, IN – Campagna Academy announced that former Judge Ken Anderson is retiring as legal counsel for the organization effective January 28, 2021.
Ken joined Campagna Academy as legal counsel for the organization in 1984 when it was known as Hoosier Boys' Town. He served as Campagna Academy's legal counsel for 36 years. In addition to being the legal counsel for Campagna, Ken is a graduate of Indiana University, University of Kansas and Valparaiso School of Law. He founded the Lake County History Club and is on the board of directors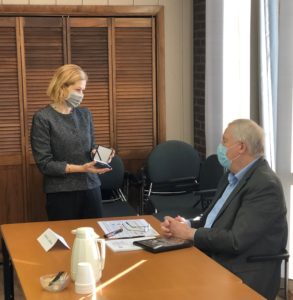 of the Abraham Lincoln Association. Ken is also a speaker at the State Conference of City and Town Court Judges and an author and playwright. Ken was a Lake County Attorney for 44 years and a Schererville Town Court Judge for 16 years. Ken's retirement plans include continuing to travel and writing more.
Sandra Snearly-Vosberg, Campagna Academy Board President shared, for over 35 years Ken Anderson has selflessly served as Campagna Academy's board counsel. His service to our mission and love for the children we serve has made him a big part of our organization's fabric.
Jeanne Wease, Campagna Academy Board Member shared, Ken may be leaving us, but his contributions to the success of Campagna Academy will endure forever and have better prepared us to face the challenges of the future.
Elena Dwyre, Campagna Academy's CEO shared, I want to express my deepest gratitude to Ken Anderson for his unwavering dedication and support to our organization. He will always be a valued member of the Campagna family.
About Campagna Academy: Campagna Academy has been restoring hopes and building dreams in at-risk youth for over 70 years. They give at-risk children a second chance in life, providing safe housing, therapeutic treatment and education. Their residential services include Intellectual/Developmental Disabilities (IDD), Open Residential, Emergency Shelter Care, Secure Residential and Psychiatric Residential Treatment Facility (PRTF). They also have an IOP Substance Abuse Treatment Program, Day and Evening Reporting Program and offer Therapeutic Foster Care. Campagna Academy's life-changing programs impact over 500 youth and families annually. They are a 501c3 non-profit organization that is fully licensed and accredited by COA and CARF International. For more information about Campagna Academy please visit their website at www.CampagnaAcademy.org.